Want help figuring out what you actually need on your newborn essentials checklist and the stuff that's a waste of cash?
It takes having a baby to figure out the baby essentials that new mamas just cannot live without.
There are so many baby products on the market that as a new or expectant mother it can be easy to get overwhelmed trying to pick out the essentials.
The trouble is that we only know what is a true baby essential after we've spent the first year actually caring for a baby!
As a mama of two I thought I would share this ultimate baby registry guide which features all of the things that you truly need for a baby. These are the things I could not live without with both of my babies!
Some of these ARE just a nice to have, but those will be flagged up as we go. For the most part, you can keep your baby shopping list pretty simple.
Babies really just need to be warm, fed and safe. There's no huge secret to getting it all right, but it can feel totally overwhelming if this is your first baby.
If you're looking to save money on baby stuff, you definitely need to head over to this post about saving money on baby while you're still pregnant.
---
If you want a complete guide to what to expect in your first year with a baby, including no-BS advice on sleep, crying, weaning, returning to work and more, check out my ebook. Find out more about The Mummy Bubble: How to Survive Baby's First Year here.
---
This guide will take you through the complete newborn baby checklist with only the stuff you need, plus a few extras that might be nice to have, and explain how to pick out the right items for you and your baby.
When shopping for your baby it's really crucial to question the practicality of everything shops are trying to sell you. Do you really need expensive designer outfits when your baby will be out of newborn sizes within a matter of weeks?
Do you need the expensive baby monitor with breathing sensor when many mamas find this makes them worry more, not less? Think about every item and whether it's a want or a need.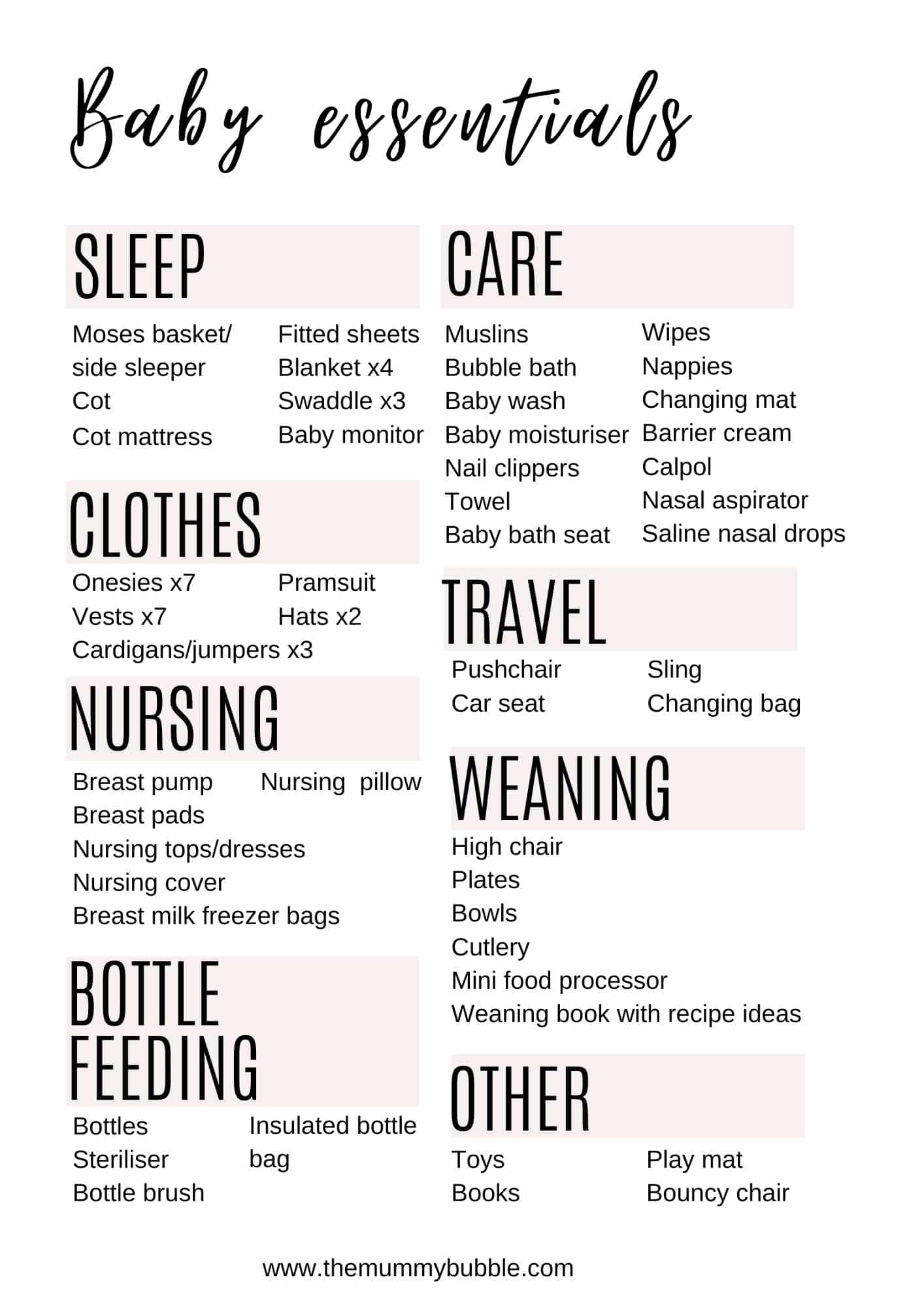 If you would like a printable copy of this essential baby registry list, just subscribe to my mailing list!
You may also want to check out this article about shopping for your new baby for extra tips on picking out the right gear.
This post contains affiliate links. That means I get a small commission from any sales made however it does NOT cost you any more to purchase.
Newborn baby essentials checklist
Let's take a look at all of the newborn baby essentials. I've skipped the stuff you don't need to think about – such as a small bowl for washing your baby as you can just use the sink or a bowl from your kitchen for that.
This checklist features only the essentials for a newborn baby you really need.
Essentials for baby's nursery
Moses basket / side sleeper
First up we have a product that will come in really handy for the first six weeks or so, but is not a necessary expenditure!
A Moses basket can be transported all around the house so that your baby can nap in whatever room you are in. You can buy a stand so that it is raised off the floor.
The trouble with the Moses baskets is that babies grow out of them within about eight weeks. Some even earlier if they are a fast grower!
Many mamas swear by side sleepers, especially if they are breastfeeding. A side sleeper fits on to the edge of your bed so that baby is in a safe sleep environment but you are able to reach them without getting up whenever they need a feed.
There are some side sleepers on the market which adapt for a growing baby so that they become a cot when you need them to be. These are on the pricier side of the market but get good reviews.
Products such as the baby sleeping cushions can also be put into this category. Some mamas swear they helped their baby to sleep better, but be warned they are very expensive and your baby will grow out of them.
If you are on a budget, skip the Moses baskets and side sleepers and just buy a good cot bed that will take your baby from newborn to toddler! My eldest is four and still sleeping in her first bed, so I say it was £70 well spent!
Cot / cot bed
Whether you choose a cot or a cot bed depends on the space you have.
According to current health and safety advice, your baby should sleep in the same room as you until six months. So any cot you buy needs to fit in your bedroom.
If that's not possible, then you may need to invest in a Moses basket (see above).
A cot bed is brilliant because they last your child for the first four to five years. Simply remove the sides once they can be trusted and you have a toddler bed!
Cot mattress
A cot mattress should be purchased new. This is because it's important for babies to sleep on a flat, firm surface. An old, second hand mattress could be saggy.
Choose a mattress that adheres to safety standards. In the UK, look for mattresses that are marked with BSI number BS 1877-10:1997. This means they comply with British safety standards.
Buy from reputable makers and check that there are no cracks or tears in the mattress before letting your baby sleep on it.
Also double check the mattress you purchase is the correct size for the bed you have bought. Most side-sleepers will come with the mattress.
Cot bedding
You do not need cot bumpers! That just had to be said straight away! Cot bed bumpers are a suffocation risk. If your baby moves about and bangs their head on the side of the cot in the night, your baby will be fine! Most of the time they just sleep through it.
You also do not need a pillow for your baby. Any additional objects in the bed can pose a risk to your baby so keep the bed as clear as possible.
Anyway, now that this message is out of the way, let's look at what you actually do need!
Sheets
Go for fitted sheets. Any loose bedding is a potential suffocation risk for babies. Choose sheets that fit the mattress you have purchased – Moses basket, side sleeper, cot, cot bed etc.
Blankets
Babies can overheat incredibly fast. For this reason it's best to go for light blankets that you can put on them in layers. This makes it easier to remove a layer and cool them down if they are too warm in the night.
Cellular blankets are great for this purpose. Buy three cellular blankets plus two warmer fleece blankets.
Swaddle
There's a bit of a knack to swaddling and who wants to be fiddling with the corners of blankets at 3am?
Go for easy swaddles that do up with a zip or poppers to make your life less stressful.
Swaddles are great for soothing your baby in the first few weeks of life, as they make them feel constricted as if they are still in the womb.
Changing mat
If you're looking for extra storage in your baby's room then you could get a changing unit that features shelves or drawers too.
You could buy specific changing mat covers for the mat in case of nappy changing mishaps, but a giant muslin is just as good.
But if you're on a budget a simple plastic mat that you can tuck underneath the cot works just as well.
You can also get cot-top changers to save space if you want to save your back from crouching on the floor during every nappy change.
Baby monitor
The features on baby monitors get fancier and more complicated every year!
You can buy monitors with sensors you fit to your baby to keep an eye on their breathing, temperature and movements, such as rolling over. All of this information is communicated to a special smartwatch you wear or to your smartphone to keep you updated.
When it comes to picking the right baby monitor for you, set a budget and then shop within that budget. You do not need to spend a fortune on a fancy baby monitor to keep your little one safe!
Remember that in the first six months, your baby should (according to NHS advice) sleep in the same room as you anyway. Of course many parents pop their baby to sleep in a separate room for naps and try to have an evening break while their baby snoozes in the bedroom, so a monitor does come in handy for this.
The cheapest monitors on the market will be audio only. The video ones give better peace of mind when your baby is in a deep sleep so that you can see them.
Some monitors offer streaming to your smartphone only via an app rather than a separate handheld device, so you may want to think about this feature. It's useful having the picture of the baby on a separate device you can pop in front of you while you get on with other things.
Some baby monitors let you zoom in and pan around, which is a great feature if you have had twins or more and need to monitor two cots!
Here are a few top picks that come out really well on customer and expert reviews to suit high and low budgets:
Best value
Motorola MBP481. Costs less than £100 and features a separate handheld unit to watch your baby from. Includes a zoom feature. A great option if you want video and audio but don't want to spend a whole lot of cash.
Best for video quality
Kodak C525. Comes out on top for most review sites for video quality. Offers excellent video quality and the option to monitor the video feed via wifi on your smartphone or tablet. You can record clips from the video footage to share with loved ones. Two-way audio means you can soothe your baby through the device if they wake. Video camera is wall mountable and can tilt, pan and zoom.
Best for monitoring baby's vitals
Owlet Smart Sock. Not a cheap option but offers you extra features so you can monitor your baby's health. Pop the special sock on your baby's foot and the monitor will report back on your baby's heart rate and oxygen levels. Information is communicated to an app on your phone. The downside is there's no video monitoring option with this.
Essentials for when you're out and about with baby
These are the things you need when you're out of the house with your baby. I've not included a sling in this article but for many parents it is an essential.
There are a few different types of baby carrier – the main ones are a baby carrier featuring a pre-made pouch with straps or a cloth sling that you need to wrap around yourself.
Many parents find a baby carrier incredibly useful, so it's up to you whether you give one a try.
Pushchair
You could spend upwards of £1,000 or as little as a couple of hundred.
Whatever your budget is, pick out your pushchair based on the type of terrain you will travel on the most and journeys you will be making.
If you live in a city and use a lot of public transport then pick something that can fold up easily, and is lightweight.
If you live somewhere more rural you'll want something sturdy to cope with uneven footpaths and countryside walks.
Think about the following features when picking out your buggy:
Function – Some pushchairs can easily convert from a newborn pram (where baby sleeps flat on their back) to buggy where they can sit up and look out.

Car seat compatibility – some pushchairs will let you add adaptors so you can put your car seat on instead of the buggy seat. This is great if your baby has nodded off in the car.

Swivel wheels – making it easier to steer, even one-handed!
Hood – does it extend further to give your baby extra shade on sunny days.

Basket size – does it have plenty of space for shopping and extras?
Car seat
Buy this new and keep an eye on the latest safety advice for child car seats. You can read a full and detailed summary of the current UK advice for car seat safety here.
Car seats come in many many shapes and forms so it can be tricky to narrow down your search.
Whatever you choose, remember to check if the seat will fit in your car! Some seats have ISOFIX points which will only be available in certain models of car. Others fit with the seatbelt.
The consensus from safety experts now is the longer your child is rearward facing, the better.
You can get car seats that keep your child rearward facing from birth to age two. They grow with your child. However these do cost a bit more money than your standard birth to one year car seats.
Changing bag
You may have a bag in your wardrobe already that would work great as a changing bag!
However there are many brands on the market that make great changing bags that tick all of the boxes for what you need from a really convenient changing bag.
The key features to look for with a changing bag include:
Pockets – internal and external for slipping your purse and keys for quick access and for organising all of baby's stuff so you can find things easily.
Changing mat – many bags come with a folded, wipe clean changing mat. This makes nappy changes easier on the go.
Size – if you will be out for long spells in the day then a larger bag that holds a few clean nappies and spare clothes is a good idea, but if not then stick to something a bit more compact.
Style – backpacks are easier to carry around as they leave your hands free whereas shopper style bags can become a bit annoying if they keep slipping off your shoulder.
Wipe-clean materials – a bag that is made from material that is easy to clean inside and outside is a must.
Baby clothing checklist
You will be given a lot of clothes as gifts so don't spend too much on this if you are on a budget.
I have a full post on how many newborn baby clothes you really need over here.
It can be really difficult to resist those cute baby outfits! If you can't resist, go for size 0-3 months as your baby will probably be in the newborn size for just a couple of weeks.
If you want to keep your baby wardrobe minimal, stick to onesies and vests. This way you don't need to buy socks for winter. When you go out you will cover your baby with blankets anyway, and pop them in a pram suit if its really cold. This way you don't need to worry about creating outfits with trousers, tops and socks.
You don't need baby shoes or booties. These tend to just get kicked off anyway.
Here's a list of only the very essential items you need for your baby.
These are the things that will get you through the first few weeks. Then you can see what gifts you may receive from friends and top up with clothes after that. When shopping for these items, look for 100 per cent cotton as this will be gentler for your baby's skin.
5x onesies

5x vests

2x jumpers/cardigans

1x pramsuit/snowsuit

2x hats
Muslins
Giant muslins are the way forward!
They can be used for so many things apart from just burping your baby.
Use them as a swaddle blanket, use them as a burp cloth, use them as a breastfeeding cover, or a tummy time blanket. They are also great as a changing mat cover.
The Aden + Anais swaddles, as seen on Prince George when he left hospital shortly after being born, are beautiful but pricey!
You can get similar ones for less than half of the price.
What toys do you need for baby?
For a newborn baby you really will not need a lot of toys! When they are born they can't see particularly far and they don't see in colour.
But as parents we want to get keepsakes and cute things for our babies. Choose a simple comforter or two that your baby can bond with as they grow up. You may find they love it and continue to nod off with it well after they leave the toddler years.
Pick toys with multiple textures and sounds such as rattling so that your baby can explore them. The Lamaze range of toys of great for this.
Books are great for bonding and lovely to introduce as part of a bedtime routine. Your baby is never too young to be read to, and any exposure to language is good for their brain development.
You do not need a ton of toys for your baby, here's a post giving you an idea of what toys a newborn actually needs.
Care essentials
Nail clippers
Those tiny baby nails are cute, but when you cut them its actually quite scary!
Get nail clippers specifically for babies as they will be smaller and easier to use for baby nails.
You can also get tiny nail files that fit on one of your fingers like a thimble so that you can file them while holding your baby.
The best time to cut your baby's nails is when they are asleep, as they'll be much less fidgety.
Baby bath seat
This can help to support your baby so that you can wash them with both hands.
Babies get very slippery during bath time so a baby bath seat is a really handy product to help you keep them supported in the water.
Bubble bath
Bubble baths are fun! In the early days though, just bathe your baby in simple water and then moisturise them with a baby-safe cream afterwards.
Your baby's skin is delicate and they won't get that dirty in the early weeks!
Baby bath wash
Choose something that is specifically for newborns so that it is formulated for baby skin. Newborn skin is so delicate, way more so than adult skin.
There are lots of products out there, and you may want to choose based on your own personal preferences when it comes to toiletries.
Baby moisturiser/cream
Moisturise your baby after every single bath to keep their skin healthy. Only use baby-safe moisturisers that are not perfumed to avoid aggravating your baby's delicate skin.
Wipes
It may be a case of trial and error before you find the wipes brand that you prefer. You could try reusable wipes which will save you money over the time and are better for the environment.
Nappies
When it comes to brand, you should aim to try a few different ones in the first few weeks to see what you prefer.
I was an avid Pampers user but then over time have switched to supermarket own brand nappies which are just as good and way cheaper.
Nappy rash barrier cream
Hopefully you will be able to avoid nappy rash simply by changing your baby's nappy frequently. But if it does happen a good barrier cream such as Sudocrem can clear up sore bottoms and help to prevent rash getting worse.
Baby towel
Get something soft. Towels with a hood are great as they are easier to wrap your baby in and help keep their head warm.
Medical kit
When your little one is still in their first 18 months of life you really do not need a huge stash of medical supplies.
This is because with babies you will usually need to consult a doctor before you pile on creams and medications. Babies can take paracetamol after three months. In the UK it is recommended they have a dose of Calpol after their first round of vaccinations to help keep their fever down.
Because baby skin is so delicate and their systems are still developing, don't try to administer any other medication without first seeking advice from a doctor. They can advise you on dosage and the correct type of medication or cream you should be using for things like eczema and reflux.
Calpol
Have a supply of baby-safe painkillers on hand, but be sure to always read the instructions on the dosage and speak to your doctor if your baby is less than eight weeks old before administering any painkillers to them.
Nasal aspirator
These can help to unblock your baby's nose when they have a cold. They aren't born knowing how to blow their nose unfortunately!
Saline drops
These can help to unblock noses, even if just for a short time.
Breastfeeding essentials
Nursing tops/dresses
You don't have to buy specific nursing tops. A strappy vest top does just as well!
Go for comfort above all things and clothing that gives you quick access for your baby.
Nursing bras
Get three nursing bras. These are essential for support and easy access. You also don't want your bras to be too tight as this can cause blocked ducts.
Nursing cover
If you feel nervous about feeding in public then a nursing cover can help you cover up and feel less self conscious. There's a handy buying guide here.
Breast pads
You'll want these even if you aren't breastfeeding, because your milk supply kicks in whatever your feeding plans after a few days.
I've tried the super cheap pads you can get from Boots or supermarket own brands and they're fine. They do the job.
But the best in terms of comfort, absorbency, stickyness (is that a word?) and size are these breast pads.
Breast pump
This is another area where you can spend a whole lot or keep it simple. It depends on what you will need the breast pump for.
If you would like to offer your baby some expressed breast milk in a bottle once a day then go for an electric pump. They are more efficient and less effort for you.
The best electric breast pump, single, has to be the this one. They also make a double version if you plan to exclusively pump your baby's feeds.
But if you simply want to collect a little milk to occasionally offer as a feed then go for a Haakaa manual pump. You can use these to collect milk when feeding from the other breast, meaning you don't lose any milk from the letdown.
If you will be feeding your baby from a bottle occasionally, check out the bottle-feeding essentials below.
There are lots more breastfeeding essentials on this post here.
Freezer bags to store breast milk
Get some good freezer bags for storing your breast milk. Many of the branded breast pumps make their own bags that fit to the pumps for ease of use.
Bottle-feeding essentials
Bottles
If you are formula feeding only then get enough bottles for an entire day's worth of feeds. This will save you from washing them up multiple times a day.
Steriliser
There are cold water sterilisers, which are basically a bucket which you fill with water and then drop a steriliser tablet in and simply drop the bottles in to sterilise.
You can also get microwave sterilisers, or electric steriliser machines that are standalone.
Bottle brush
You'll need a bottle brush to get right into the bottle and teats and clean away any traces of milk. Rinsing alone won't do this.
You can save yourself the trouble if you have a dishwasher! You can get a bottle holder for your dishwasher so that everything is kept altogether.
Weaning essentials
for baby

You won't need to rush out and buy these items before baby is born. But it can be useful to be aware of what you need, because the first six months with baby definitely flies by!
High chair
For a simple high chair, the IKEA Antilop works well. It's only issue is that you cannot fold or collapse it to move it out of the way if you need to.
Some high chairs have multiple reclining and foot rest positions to grow with your baby and keep them comfortable.
Whatever your budget, look for a chair that is easy to clean (wipe clean is best) and has a decent-sized table top.
Cutlery
Your baby simply needs three small plastic spoons to get them started.
Even if you are choosing to do baby-led weaning you will want your baby to try out using a spoon and fork as they will ned to learn how to use these.
Plates/bowls
The plates will be thrown on the floor a lot! In the early days of weaning you may simply want to put your baby's food straight onto the high chair table in front of them.
You can get plates and bowls that fit to the table with a suction cup, which are perfect for babies who love to fling them on the floor.
Non-spill sippy cup
Open cups are great, but your child will sling their cup across the room at the first opportunity!
Pick a non-spill cup. These cups are a great design as they mimic how your child should drink from a normal cup, but won't spill when they chuck them on the floor.
Bibs
You'll want a few of these as feeding time will get messy.
Mini chopper
My number one kitchen gadget is a mini food processor! Use this to quickly mash up any food for your baby.
You can puree the food to a very fine consistency which is perfect for baby's first foods.
Use it to grind up small portions of your own meals, such as spaghetti bolognaise, to feed to your baby.
Weaning guide
Find a book or two that give you ideas for recipes you can create for your baby.
It's great to have a bit of inspiration and they give you a nice idea of how to gradually introduce first foods for your baby.
Final thoughts on your baby essentials checklist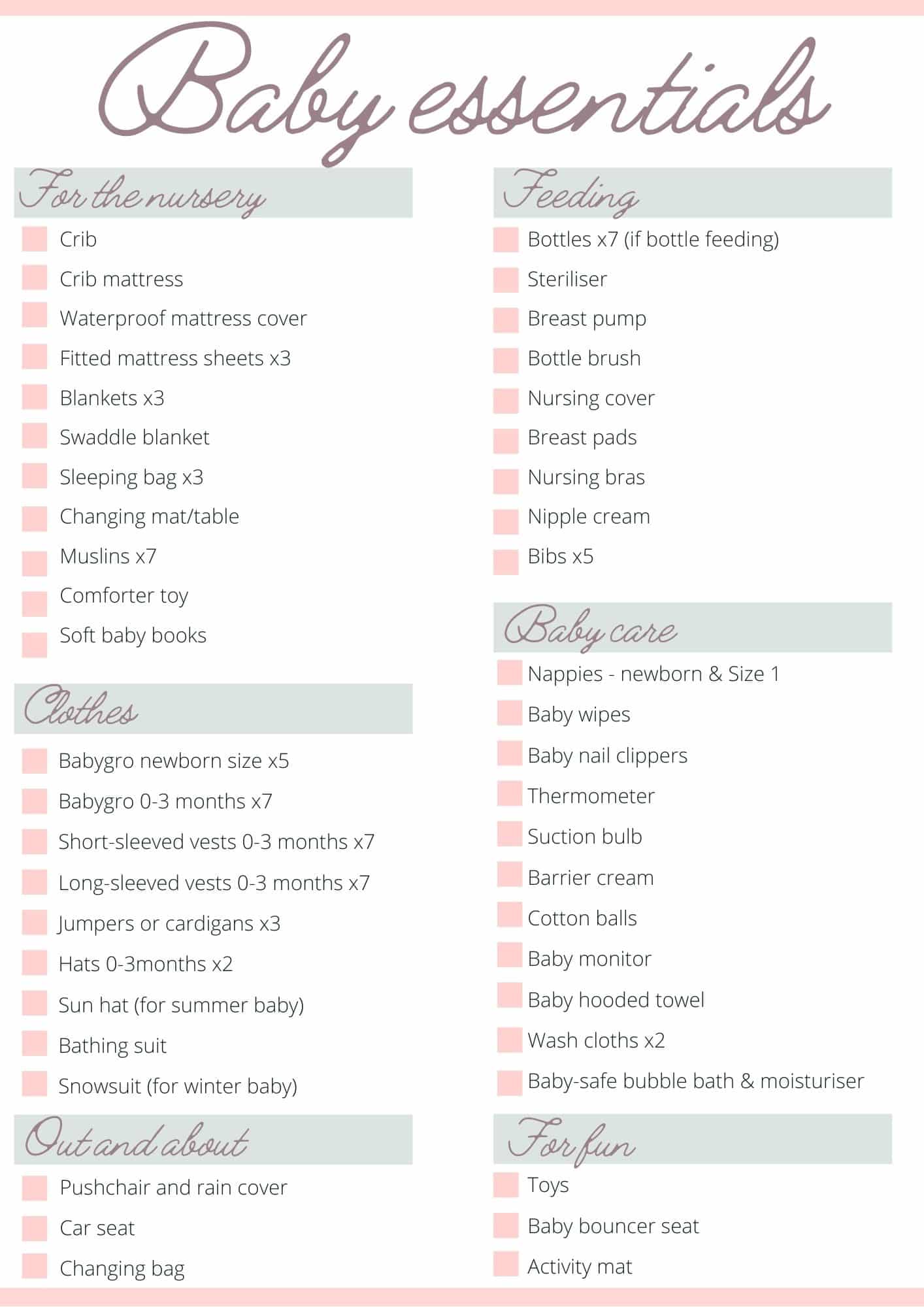 This is all of the essentials you need for your newborn before they are born!
As you can see from this list it's a lot smaller than the list of stuff available for you to buy in the shops!
Of course there may be a few extras that you choose to add to this newborn checklist and that's totally fine.
If you are looking for more tips on buying for your baby, check out this post on things you should definitely not waste your money on. Spoiler alert: A baby bath is one of them!
V
X