If your child loves unicorns then they are going to love these free unicorn activities for kids!
You can download every one in PDF format and print them off for your child to enjoy.
The colouring sheets are my own three-year-old's favourite, but I love the rainbow sticker colour match.
The magical appeal of unicorns makes them so popular with children. These pretty activity sheets include blank colouring pages and activities for your child to do with cool unicorn characters.
There are also stars, rainbows, cupcakes and sundaes. These unicorn-themed sheets are perfect for toddlers and pre-schools to enjoy.
This post contains affiliate links.
To do all of the activity sheets you will need:
Access to a printer – so you can print the sheets off. Colour looks best!
Pens, pencils or crayons for colouring
Sticker dots – I love these ones
These are the perfect free activities to enjoy with your child on a rainy day.
You may also love:
40 easy activities for your toddler
Free unicorn colouring pages
First in the bundle of free activities are these beautiful free unicorn colouring pages.
They are perfect for toddlers and pre-schoolers to enjoy decorating however they want.
This unicorn illustration is quite a simple one that will suit toddlers but there are some more detailed colouring pages included in the bundle too.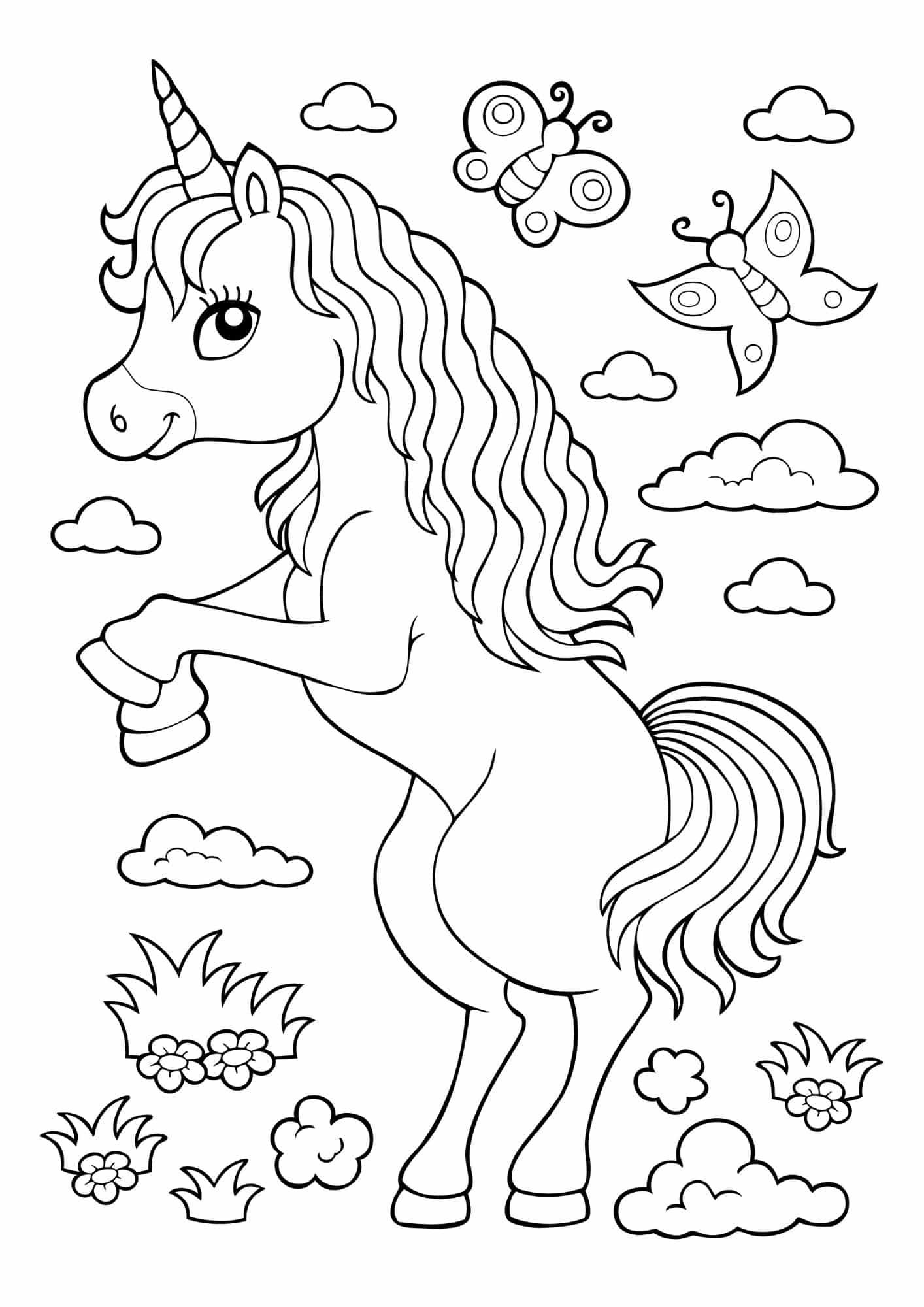 In total there are five colouring sheets for your child to enjoy.
Why not ask your child to draw their own unicorn when they have finished colouring in the sheets?
You can download your free unicorn colouring sheets in PDF form via this link:
Free unicorn activity sheets
I've got a few different unicorn activity sheets for your little one to enjoy!
These are ideal if you want to give your little one a challenge or keep them occupied on a rainy day.
I particularly love the unicorn play dough mat! Your child will need to make the unicorn's horn with play dough, and they can also add little dots or hearts to the unicorn's skin to decorate.
If you do not have any play dough then why not encourage your child to draw on the horn in any colour they want and add some dots, hearts and stars to the unicorn's skin too.
This unicorn I-spy sheet is brilliant for helping your child with their numbers and counting. There are several cute unicorns to find plus some rainbow objects such as cupcakes.
This unicorn memory game is a wonderful activity to do with your little one!
You will need to print off two copies and then cut out all of the squares. Then you can turn them all face down and take it in turns with your child to turn out two at a time. Whenever you match a pair shout "snap" and take those two out of the game.
You will need small dot stickers for this final activity sheet. If you don't have any then you could get your child to colour in the blank circles with the right colour.
You can download all of the unicorn activity sheets in PDF form right here!
I hope you enjoy these free unicorn activities with your child! Let me know which one is your favourite.