Adorable quotes about newborn baby girls are a wonderful way to welcome a little ray of sunshine to the world.
Quotes and sayings about baby girls are a great way to reflect the emotion and magnitude of a new arrival.
I've got over 70 gorgeous baby quotes to welcome a newborn baby girl.
These can be used in birth announcements in cards or social media posts, or even earlier if you want stunning baby shower quotes to celebrate a little girl.
There are also beautiful quotes for a baby girl's nursery which can be used on artwork for your little one's bedroom.
You may also like: Sweet and funny pregnancy announcement quotes
New baby girl quotes
1. A little girl is sugar and spice and everything nice—especially when she's taking a nap.
2. Here sleeps a girl with a head full of magical dreams, a heart full of wonder and hands that will shape the world.
3. Her little hands stole my heart, her little feet ran away with it
4. Baby girls are like flowers that are forever in bloom.
5. Before you were born I carried you under my heart. From the moment you arrived in this world until the moment I leave it, I will always carry you in my heart. – Mandy Harrison
6. Like stardust glistening on fairies' wings, Little girls dreams are of magical things. – Sherry Larson
7. A girl without freckles is like a night without stars. – Unknown
8 A toddling little girl is a centre of common feeling which makes the most dissimilar people understand each other. – George Eliot
9. A baby girl is one of the most beautiful miracles in life, one of the greatest joys we can ever know, and one of the reasons why there is a little extra sunshine, laughter, and happiness in your world today. – Unknown
10. A daughter is a miracle that never ceases to be miraculous.– Deanna Beisser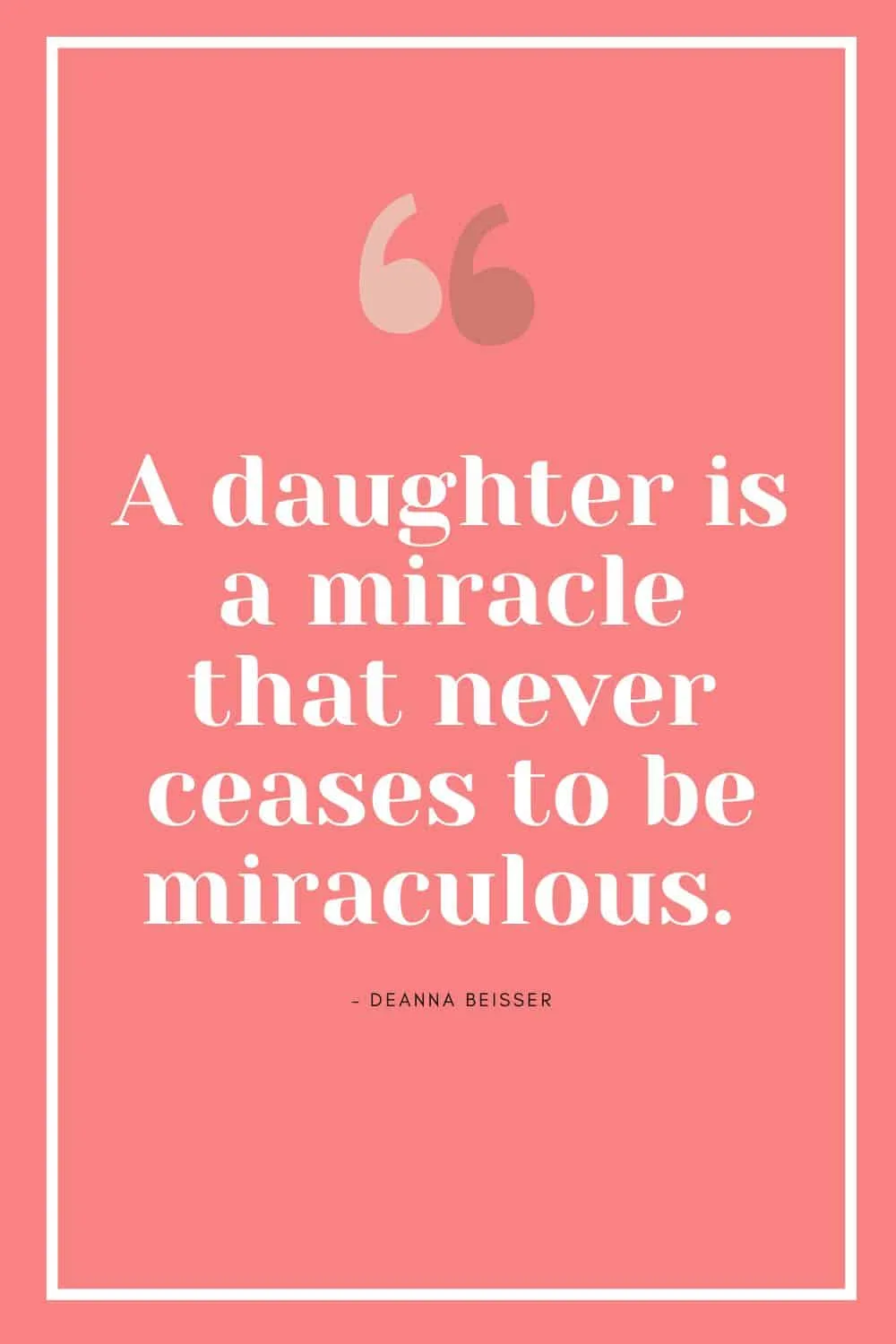 11. A baby girl is a giggle wrapped in the warmth of sunshine.
12. When you have a baby girl, you realize that there is something far more precious than the most precious jewels.
Quotes about baby girls
13. A daughter is one of the best gifts this world has to give. – Laurel Atherton
14. Courage, sacrifice, determination, commitment, toughness, heart, talent, guts. That's what little girls are made of. —Bethany Hamilton
15. And though she be but little, she is fierce. – William Shakespeare
16. A tiny daughter gives parents a life in a climate of perpetual wonder. —Pierre Doucet
17. One girl is worth more than twenty boys. – Peter Pan
18. It's extraordinary to look into your baby girl's face and see a piece of your flesh and your spirit.
19. Let her sleep, for when she wakes she will move mountains. – Napoleon
20. A baby daughter is always a Daddy's girl and Mommy's world!
21. A baby girl always leaves a bit of sparkle and a bit of rainbow wherever she goes.
22. A baby girl would dance her way into your heart, whirling on the tips of angel wings, scattering gold dust, and kisses in your path.
23. Courage, sacrifice, determination, commitment, toughness, heart, talent, guts. That's what little girls are made of; to heck with sugar and spice. -Bethany Hamilton
24. Here's to strong women. May we know them. May we be them. And may we raise them.
25. A girl should be two things: who and what she wants. – Coco Chanel
26. Little girls with dreams become women with vision.
27. How long is a girl a child? She is a child, and then one morning you wake up she's a woman, and a dozen different people of whom you recognise none. – Louis L'Amour
28. In every girl is a goddess. – Francesca Lia Block
Newborn baby girl quotes and sayings
29. Babies are a link between angels and man.
30. From the moment that your baby girl arrives everything changes. She makes your world grow bigger, and your heart fuller, and life simply means more because she is in it
31. No matter how old my daughter gets, she'll always be my baby girl.
32. A mother's and daughter's love is never separated. – Viola Shipman
33. I think, at a child's birth, if a mother could ask a fairy godmother to endow it with the most useful gift, that gift would be curiosity. – Eleanor Roosevelt
34. 50% Mummy, 50% Daddy; 100% Perfect.
35. I believe in being strong when everything seems to be going wrong, I believe that happy girls are the prettiest girls, I believe that tomorrow is another day, and I believe in miracles. – Audrey Hepburn
36. Meeting you was like listening to a song for the first time and knowing it would be my favourite
37. Beautiful people are not always good but good people are always beautiful. – Imam Al
38. In a field of roses, she is a wildflower.
39. A daughter is a bundle of firsts that excite and delight, giggles that come from deep inside and are always contagious, everything wonderful and precious and your love for her knows no bounds. – Barbara Cage
40. A girl is innocence playing in the mud, Beauty standing on its head, and Motherhood dragging a doll by the foot. – Alan Beck
41. There's no better feeling than making your little girls laugh. —Jerry O'Connell
42. She is my joy and heart's delight. – Robert Wever
43. She will fill your lives with sunshine and your hearts with love.
44. There is a garden in her eyes, where roses and white lilies flow. – Thomas Campion
45. A Daughter: The companion, the friend, and the confidant of her mother, and the object of a pleasure something like the love between the angels to her father. – Richard Steele
46. She is the exclamation point in the happiest sentence I could ever write.
Quotes for a baby girl's nursery
Words of wisdom for baby girl and for everyone else.
47. She has fire in her soul and grace in her heart
48. You are my sun, my moon, and all of my stars. – E.E. Cummings
49. You are made of stardust and wishes and magical things
50. When you get the choice to sit it out or dance, I hope you dance.
51. You is kind, you is smart, you is important. -Aibileen Clark, The Help
52. Sometimes the smallest things, take up the biggest room in your heart. -Winnie the Pooh
53. You are our greatest adventure
54. Twinkle, twinkle, little star…Twinkle, twinkle, little star, do you know how loved you are.
55. You are my sunshine
56. I'll love you forever, I'll like you for always, as long as you're living, my baby you'll be.
57. Every good and perfect gift comes from above.
58. Dream big, little one.
59. Isn't she lovely.
60. I love you to the moon and back.
61. In a field of roses, she is a wildflower.
62. Beautiful girl, you can do amazing things.
63. As soon as I saw you, I knew a grand adventure was about to happen.
64. Such a big miracle in such a little girl.
65. Let me love you a little more, before you're not little anymore.
66. Once upon a time…
67. She believed she could, so she did.
68. Wild and free.
69. Dreams loading.
70. Your first breath took ours away.
71. Why fit in when you were born to stand out. Dr. Seuss
72. Play. Dream. Love.
73. Be your own hero.
74. Write your own story
75. Shoot for the moon. Even if you miss, you'll land among the stars. – Les Brown